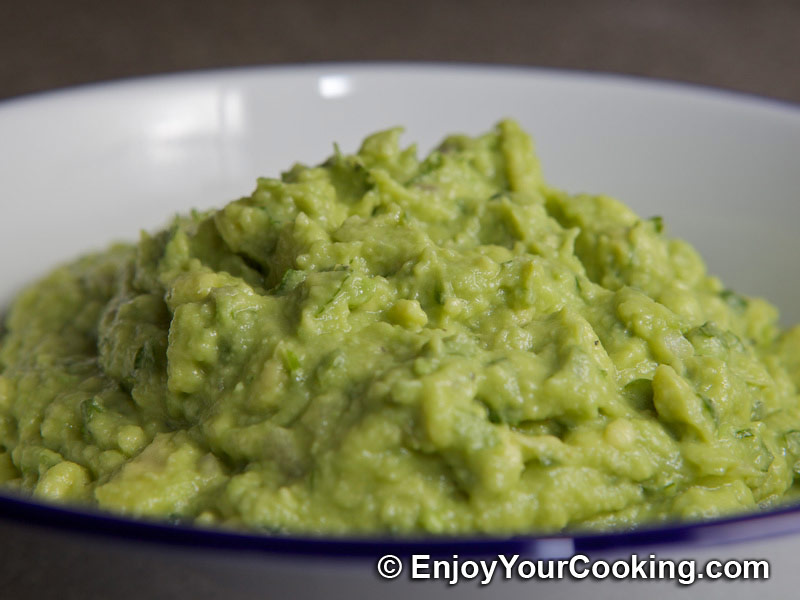 Feel free to play around with quantities and ingredients. And you can leave out any ingredient you don't care for. There are as many recipes for guacamole as there are cooks making it. I've even known people to add crisp bacon bits to their guacamole, and it was delicious!
This recipe is for 6 servings, but be aware, 2 people and a long football game can make this amount of guacamole go away quickly, especially if you serve it with homemade corn tortilla chips.
Notes:
The avocados should not be mushy, but should give to a soft press. They should be about the size of your fist; if smaller, use more. The best variety for guacamole is the Hass, with a black, pebbly skin. If you find bacon avocados at your farm market, go for those! The aim is for a dense, creamy avocado. The smooth, green varieties (like Fuerte) have more water in them, and a less intense flavor.
The tomatoes should be ripe, but firm. Roma tomatoes are perfect because they are mostly pulp, with little seed or juice.
The onion can be red, white, brown, even green (scallions).
Ingredients:
4 very ripe avocados, peeled and coarsely mashed (approximately 2 cups)
2 small to medium tomatoes (approximately 1 cup finely diced)
cup finely diced onion (approximately of a small onion, or 4 scallions)
1 tablespoon lemon or lime juice (fresh is best, but bottled works)
1 finely chopped jalapeno pepper (use gloves or plastic bags over your hands while you work with the pepper)
1-2 cloves garlic, very finely chopped (or to taste)
1/8 teaspoon salt (or to taste)
few dashes pepper (or to taste)
cup coarsely chopped cilantro leaves (optional)
cup sour cream (optional)
1 reserved avocado pit
Combine all ingredients (except pit) in a medium bowl, and stir gently until combined. You want to preserve a fairly coarse texture, but each bite should include a bit of every ingredient. Put the reserved avocado pit in the center of the dish to help prevent browning. You can also cover the guacamole with plastic wrap, pressed down onto the surface of the dip until ready to serve.
You can reserve a bit of the tomato, onion and cilantro to sprinkle over the top, as a garnish for the finished guacamole.
Source:
Image Credit