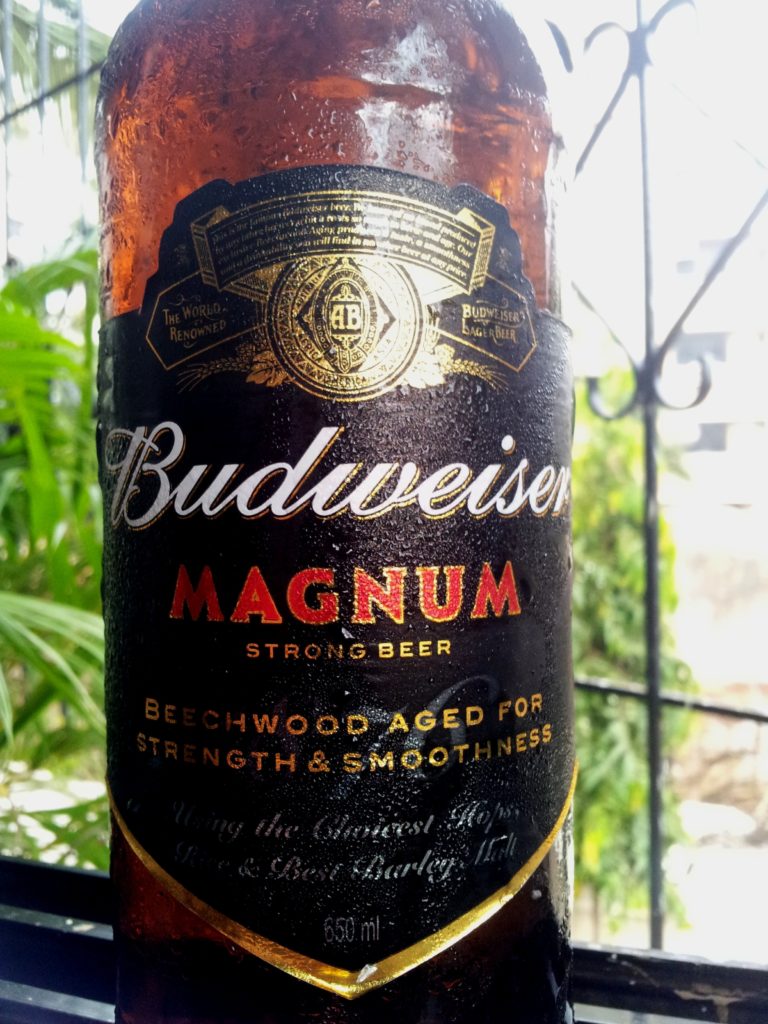 What can I say? Bud is a very light American-style pale lager with a crisp, metallic finish, it pours as clear as water and with an abundance of quick and tasteless bubbles. I will admit to having drunk plenty of it when it was on sale and I was in college, but let's face it, whatever can be said about Budweiser being an icon of American marketing, it is not a very good beer. Along with other major players in American and worldwide beer sales, Budweiser is obviously more concerned with market share than with taste. Hey, but that's OK, as the world gets smaller and smaller, our choices are greater and more varied and there are plenty alternatives available so that no one should ever have to settle for Budweiser.
Of course, I do have a good pal who turns his nose up at the dense head and thick flavors of most imports and micro-brewed offerings – he brings his own 12-pack of BudLight when he comes to my house. I can't understand it. I once bought him a Stella Artois on tap at a bar because he said he wanted something "light" – I thought I was doing the right thing since I had ordered something that looked more like a light coffee with a whipped head of foam for myself – but he took one drink of the light Belgian lager, gave me a screwy look and then handed it back to me. I saw him later with a BudLight bottle in hand. Apparently, there are some several tens of millions of people out there like him who would drink Budweiser even if if Anheuser-Busch didn't wrap it up like the Fourth of July in red, white and blue bikinis, race cars and Clydesdale's. Go figure.
I noticed that Budweiser is cheaper than bottled water, which in and of itself should say something about the product . . . I mean, it is water PLUS other stuff, no? In fact, yes, Budweiser does add other stuff that many other brewers do not, namely, rice and wood. The rice is added to make Budweiser taste even lighter still. The other big American brewers do this as well – I don't know if this is because Americans actually want their beer so light and crisp or if it's just easier to make a mediocre beer taste "better" by making it more tasteless. During the lagering process wood chips which have been boiled in soda ash to remove their color and wood flavor are introduced. Lagering was traditionally the period in which beer was stored in small wooden casks during which time the beer picked up a hint of woodiness – since Bud and BudLight are stored in big metal reservoirs the size of small office buildings, they simply pour the beer over some wood chips for effect . . . the folks at Anheuser-Busch call it "Beechwood Aging". The whole process last three days.
In 2007, Budweiser and BudLight accounted for 50.9% of the beer sales in America making Anheuser-Busch the largest brewer in the world. But selling these ultra-light and cheap lagers to a serious beer-drinking country is no easy task – it comes at a huge price. Budweiser spends 10's of millions of dollars in advertising, though there is no way to fully comprehend their costs of marketing events and teams sponsorship, celebrity endorsements, filming and photography budgets, travel expenses and the costs of maintaining a "drink responsibly" attitude. In 2007 the Budweiser name turned a profit of $2.1 million for Anheuser-Busch, so, whatever those costs, it appears that Budweiser and BudLight will continue to stress the primacy of name recognition over taste – it is, after all, that which the public seems to respond best.
Source:
Image Credit